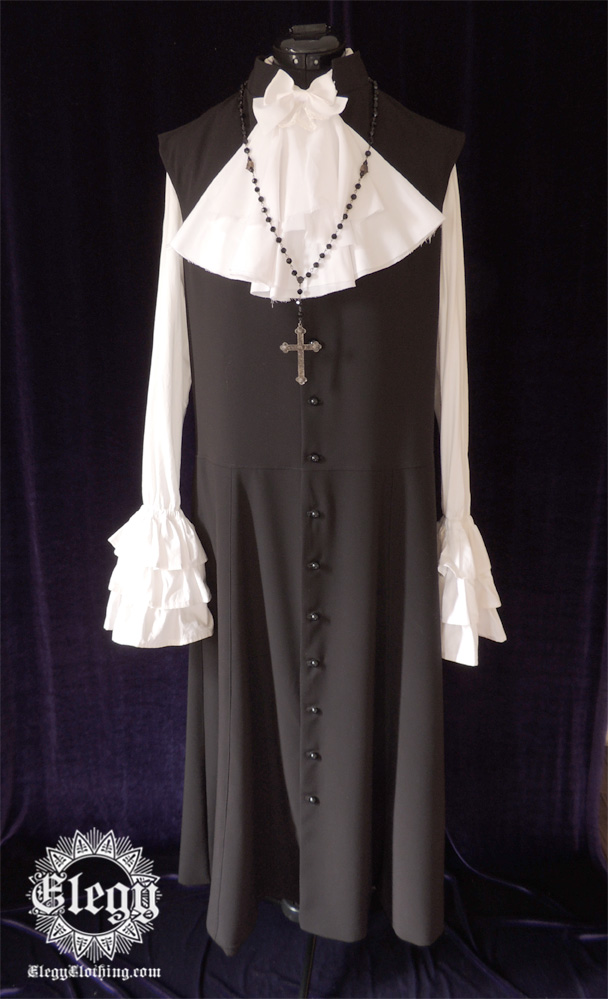 Black Mass Long Vest
What is this thing anyways? Besides cool, I mean. My concept for this was basically a sleeveless cassock (that dress thing priests wear), but I don't know if that'd be the right term. Maybe mantle or over-dress? Sleeveless jacket? Whatever, I went with 'long vest', and hopefully that isn't too dumb.

† Made from a polyester/rayon suiting, and fully lined with 100% polyester lining.
† Collar is that classic 'priest' collar, except without the white center that.. makes it a priest collar -_-
† Buttons up the front with a bunch of black plastic buttons.
† 'Skirt' part of this piece is rather full, for lots of potential swishy-ness.
† Hem is painstakingly hand sewn all the way around, for that beautiful invisible finish.

✶ Sample measures 51" in length.
✶ Length refers to the full length of the piece, measured from the back of the neck, down to the hem.
✶ This is designed as a 'Men's' fit (hence the rather boxy bodice). If you're interested in a 'Lady's' fit, email me so we can figure something out. (OH. It's also pictured on a women's dressform, because I'm a newb who still hasn't invested in a men's dressform after all these years.)
✶ This is a slightly custom piece made to your measurements! You can input your measurements once you 'Add to cart'. (Also,this piece isn't meant to be super tailored, which is why a ton of measurements aren't asked for.)

☛ Turnaround time is the same for this collection as regular orders: 1-3 weeks (or whatever's posted at the thin announcement banner at the top of the site).

▶︎ Blouse pictured in photos can be found HERE.
sold out