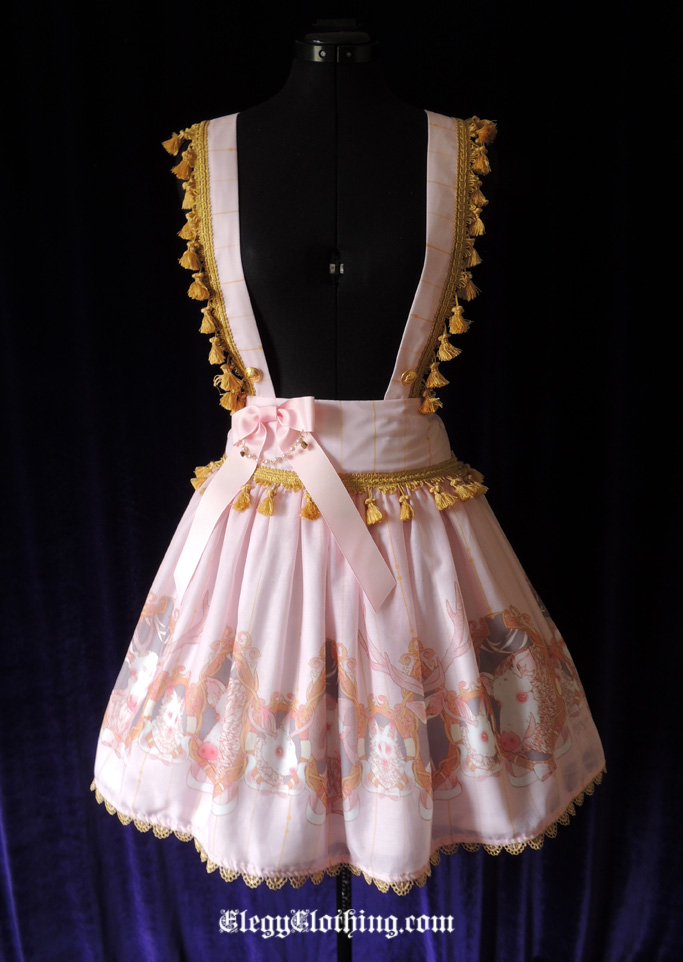 Albino Accord V2 Skirt
Albino Accord V2.0: reanimated and reimagined for it's second release!
✶ This release will ship ~6-8 weeks after reservations have closed. ✶

❦ This print was created in collaboration with the most wonderfully talented Joopis! Printed on chiffon this time around and fully lined with a light-weight polyester/cotton. This skirt is incredibly lightweight and comfy.
❦ Skirt has more of a low waist fit - so the top edge of the waistband will sit at your waist, but the fullness of the skirt starts around the hip area.
❦ Hem is finished with a metallic gold lace, and ruffle is trimmed above in gold tassels.
❦ Zips up the side via invisible zipper, and waistband does have a bit of elastic in the back to ensure a nice fit.
❦ Straps are finished in the front with a gold button on either side and deliciously trimmed all the way through in tassles. They are in fact removable, and adjustable - the back features several buttonholes, so you can choose which to button into according to fit.
❦ Waist is finished with a removable grosgrain ribbon, which is trimmed with a beaded chain (color will match colorway of the skirt).

▶︎ Sample skirt measures 20" in length, with 36" straps.

✖︎ FYI: All these samples were made in a cotton voile, but your dress will be made out of polyester chiffon. The samples aren't 100% indicative of what you will be receiving, but quite close; voile and chiffon are both super light-weight, sheer fabrics. For comparison photos of the chiffon vs voile, check out the blogpost HERE.
sold out
S I Z I N G
This piece is custom size, hooray!
Enter your measurements in accordingly, and the skirt will be made just for your body.
'Waist' is your waist measurement, and 'High hip' refers to the top of your hip, rather than the fullest part around your bum.

STRAP LENGTH: Is weird. I have had a few snafus with straps not being quite long enough in the past, and in order to avoid this un-fun event, I've decided to customize the strap length as well. YES it'll still be adjustable, but I'd rather have a measurement to jump off at, rather than assuming we're all the same height and have the same torso length. In order to measure this, simply run a measuring tape against your body in the same way the strap would - from your waist in the front, up over your shoulder, to the middle of your back right at your waist. Enter this measurement into the provided field. (If you've any questions, feel free to email me, I know this seems dumb, but I think it'll be worth it for you in the end.)